Presale happens now!! You can download "You Are Never Close To Home, You Are Never Far From Home" from CDBaby.com right now. (i just paid $12 for my own album)
If you want a physical copy, you can pre-order it right now.
Okay, so the physical copies won't ship until January 6th :/ This means that unless you have an emergency, they won't be ready in time for Christmas. (I'm sorry. I tried. And if you have an extenuating circumstance, email me and we can try to work something out)
but HERE is the link!!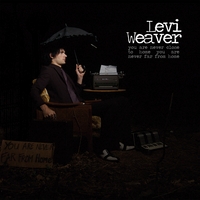 just click on the CD cover, and you will be re-directed to the pre-sale page.
It's about dang time.
It's good to have this ready to go.
For those of you who still want the old EP or the Single, those can be purchased by clicking on either of these two links:


Also, for awhile now, all my "cool" friends have been all "oh, you need a facebook, man…"
so is this affiliated? let me know. because i totally just found out i had this today:
http://apps.facebook.com/ilike/artist/Levi+Weaver
well apparently i had one all along, suckas. booyah.
Currently

listening
:

High/Low

By
Nada Surf

Release date: 18 June, 1996